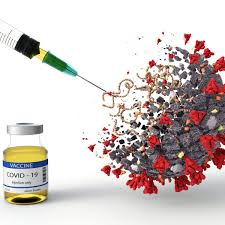 We continue to provide vaccinations but are mostly now providing 2nd doses
Delivering the vaccinations is a massive undertaking by us and is something that we have never experienced before. We hope that this will not interfere too much with the normal running of the surgery but on some occasions we may be only dealing with emergencies when trying to run vaccination clinics.
Below is the order in which we have been asked to arrange vaccinations:
all those 80 years of age and over and GP Staff
all those 75 years of age and over
all those 70 years of age and over and clinically extremely vulnerable individuals
all those 65 years of age and over
all individuals aged 16 years to 64 years with underlying health conditions which put them at higher risk of serious disease and mortality
all those 60 years of age and over
all those 55 years of age and over
all those 50 years of age and over
then people in younger age groups as directed byt the Department of Health
Please note that everyone within the age groups now included in the vaccination programme can book an appointment either at one of the mass vaccination centres or at the community pharmacy (please see your local pharmacist to arrange this)
To book an appointment at one of the Vaccination Centres click on Link or telephone as below
https://vaccinations.covid-19.hscni.net/booking
Telephone Number: 0300 200 7813
(8.30am to 5.30pm)
If you cannot access these services and wish to attend the surgery, please phone 028 90360524 or email
reception@whitehousemedicalpractice.co.uk and we will let you kno when we have an appointment.
It would also be helpful if you can let us know if you are able to attend at short notice.
For more information, please refer to
URL: http://www.nidirect.gov.uk/articles/get-covid-19-vaccination-northern-ireland
Useful leaflets:
Guide to your COVID Vaccination
URL: https://www.publichealth.hscni.net/sites/default/files/2021-01/Job%204%20Covid-19_Guide_for_Adults_DL_leaflet_12pp_05_01_21.pdf
Why do I have to wait for my COVID Vaccination
URL: https://www.publichealth.hscni.net/sites/default/files/2021-01/Job%206%20Covid-19_Why_do_I_have_to_wait_DL_leaflet_05_01_21.pdf
What to expect after I have had my COVID vaccination
URL: https://www.publichealth.hscni.net/sites/default/files/2021-01/Job%203%20_Covid-19_what_to_expect_DL_leaflet_8pp_05_12_21.pdf